Painting at Finca el Cerrillo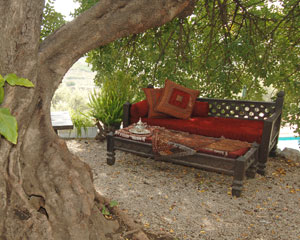 Finca el Cerrillo is a great place for a Painting Holiday. There are many interesting objects and vistas that can be painted in and around the Finca. The 200 year-old building is steeped in charm and character providing a wealth of subjects for those looking for inspiration.
The three nearby villages of Canillas de Albaida, Competa and Archez are all Moorish style 'Pueblos Blancos' (white villages) with colourful, flower-decked balconies and narrow winding streets. In the unspoiled Natural Park there are rock pools with running water and walnut and fig trees provide plenty of natural shade.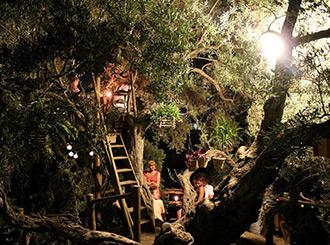 The Studio is light and airy and air-conditioning ensures a comfortable temperature year-round: it leads onto a courtyard patio that can be used as extra space for those who want to paint outdoors. There are also mature gardens surrounding the Finca, a swimming pool and lots of shady terrace areas. A treehouse in the olive grove provides another shady spot to sit and paint.
We have portable easels, stools and drawing boards for participants to use. We also have a limited supply of materials to buy but this varies according to each course - please check at the time of booking.
Join a Painting Holiday
Our painting holidays are usually of 7 nights duration. They are sociable, friendly and fun with excellent tuition from experienced teachers. Many guests return year after year! Non painting partners or friends are very welcome and are encouraged to join any excursions, meals out etc.
There is one free day mid-week when guests often choose to join an excursion - others prefer to do their own painting or relax by the pool with a good book from our library.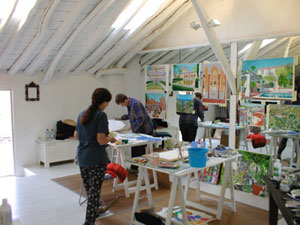 The price includes:
Tuition and some materials.
Accommodation in a spacious
air-conditioned room.
Buffet lunch served under the carob
tree on 5 days.
3 course dinner every evening - some in local village restaurants.
Airport transfers from Malaga airport (as long as your flight arrives to meet the standard transfer) Private taxi transfer can be arranged to meet other flight times.
The price does not include flights, insurance, drinks, optional excursions or lunch on the free day.
Painting Courses
Painting with Frances Winder (usually April)
This course includes tuition in practical work, sketching principles and practice, abstract, experimental and free representational work in a variety of media, as well as collage and mixed media. The aim is to develop your personal abilities and interests, but also to stretch boundaries and explore artistic options.

Francis Winder has exhibited with the Royal Academy, the Manchester Academy and worked freelance as an illustrator for architects and advertising agencies. She has a Fine Art degree and is a qualified teacher.

To see more of Francis's work please go to her web site www.franceswinder.com.
Painting and Sketching with Linda Caddy
16th - 23rd March 2019 and 29th June - 6th July 2019
Linda Caddy offers tuition in all aspects of painting and sketching.

"During the week we will use a variety of monochrome and coloured media - pencil, graphite, pastel, water-soluble charcoal, watercolour pencil, pen and ink as well as Watercolour painting. The emphasis, in both sketching and painting, will be on gaining skills and confidence in techniques and the use of colour."

The course will suit beginners, improvers and beyond.

Linda Caddy is a trained teacher and has been teaching classes and workshops for several years. Her excellence in Teaching was recognised when she was awarded a special Further Education award for her Art tuition. Linda now runs a large number of sketching and painting days in the Cheshire countryside where she lives, as well as being a regular guest demonstrator at local art clubs. She runs several painting holidays each year in France, Spain and Italy.

For more information or to book a place please contact Linda Caddy at lindacaddy@btinternet.com
Painting and Sketching with Varvara Neiman
Saturday 22nd - Saturday 29th June 2019
For more information or to book a place please contact Varvara or Alastair at artSmartuk Ltd http://www.artsmartuk.com/spain-3/
Varvara Neiman is a professional Artist, who was born into an artistic family in St. Petersburg, Russia, where art and teaching were professions passed on from generation to generation. At the age of 18 she became one of the youngest students admitted to the world-famous Academy of Fine Arts, where she gained her master's degree. After graduation Varvara specialised in scenography and costume design involving a number of theatre plays in St Petersburg. Her first international exhibition took place in Snape Maltings in 1991 followed by involvement in a number of similar events locally including the Aldeburgh Festival and Suffolk Open Studios.
Varvara moved to the UK permanently in 1999 and began teaching first with East Berkshire College and then with Buckinghamshire Adult Learning, achieving a PGCE qualification in 2006. She has demonstrated to many art societies and recently delivered two workshops at the Royal Academy. She has her own studio in Beaconsfield adjacent to artsmart School of Art where she has taught since 2007. Her classes include watercolour, oils and acrylic painting
Varvara is enthusiastic about painting en plein air and passionate about Cezanne's famous quote: "Painting from nature is not copying the object; it is realising one's sensation..." Recent work from painting trips to France, Italy and Spain will be included as part of her 2019 Bucks Art Weeks exhibition.
Tel: 01494 670372
Email us: info@artsmartuk.com

For further information you can contact the Tutor of the course that interests you or you can contact Sue Kind at Finca el Cerrillo info@hotelfinca.com (0034 952 030 444)