Bed & Breakfast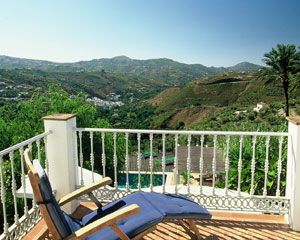 We offer bed and breakfast accommodation throughout the year. You can add in evening meals as required (usually served 4 nights of the week on Saturday, Monday, Wednesday and Friday) although this can vary and we advise you to check when booking. We know that many of our guests are fans of Finca food and like to maximise the number of times they can eat in during their stay.
On evenings that we don't serve dinner we can arrange a table at a local restaurant or direct you to a local tapas bar. See the Food and Drink web pages for more information.
Airport transfers are easily arranged if you don't intend to hire a car. Send your flight details when booking and we will send a village taxi to collect you from the airport.
Our B&B rates offer exceptional value - especially if you choose one of our seasonal special dates to visit. Our peak months are in Spring and Autumn when the Walking & Painting seasons are in full swing. Outside of these months our Winter Warmer and Summer Sizzler rates make a holiday with us an affordable option.
See Rates and Bookings for details.