Bring your Group
Group leaders who bring 10 walkers with them in January, February or late November get one free place. Free place in March, April, May, June, September & October with 12+ participants.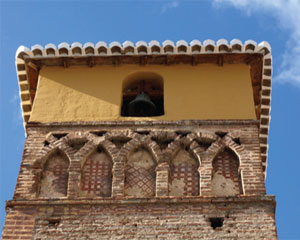 Finca el Cerrillo is the perfect place for a private group walking holiday.
We will look after all the arrangements from the time you land at Malaga airport.
Before you arrive we will help you to tailor a walking programme to suit the needs of your group - this can be self-guided walking or we can provide a Walking Guide for some or all of your week.
For non walking partners there are comfortable places to relax in the Hotel as well as a pool and mature gardens.
The Finca has 14 rooms that can be used for double, twin or single occupancy. Group sizes up to 28 can be comfortably accommodated, although we are happy to host smaller groups.
Meals are served outdoors whenever possible. Breakfast is served buffet style and 5 lunches are included in our catered package.
Lunch on the free day is not included so that you have some flexibility to have a day out.
Dinner is served on five evenings at the Finca, prepared by our own chef using fresh, local produce. On two evenings we arrange for your group to have dinner at a good quality restaurant in one of our local villages. Transport to and from the restaurant is included.
We can cater for most dietary requirements with a little notice. Our food is highly acclaimed! See our Food & Drink page.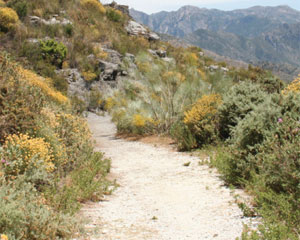 On the free day you might prefer to have an extra day's walking or there are a number of excursions that we can help you arrange. The Alhambra Palace in Granada, Picasso museum in Malaga and the sea-side town of Nerja all make excellent days out.
Airport transfers are included in our Group rates (this assumes the Group will arrive together to take advantage of a mini-bus transfer). Taxis can be arranged for those who arrive at different times to the main group but the cost of this will be at the clients own expense - €80 per taxi each way.
I want to bring my Group - how do I go about it?
Our most popular package is a fully catered package that includes airport transfers. We can also include Guide fees if required. If you would like a different arrangement, please ask Sue for a quote.
Group leaders who bring 10 walkers with them in January, February or late November get one free place. Free place in March, April, May, June, September & October with 12+ participants.
It can be difficult knowing how to manage a Group Booking - at what point should your group members book flights? What about deposits? Below we give our suggestion for a practical way to organise your Holiday.
Step One

Contact Alison or Sue at Finca el Cerrillo info@hotelfinca.com (0034 952 030 444) to discuss dates and availability. If you decide to go ahead with a provisional booking, we will pencil in an agreed number of rooms for you and a date by which you will make the booking firm.

Step Two

Assuming that you have sufficient interest, you should advise your members to contact us direct to pay a deposit of 200€ per person. We advise that each participant takes out travel insurance at this time to cover cancellation.
Also at this point, your group members can book their flights. It is a good idea for you to identify a suitable flight from your regional airport and tell your participants to book this as soon as possible. This will ensure you all arrive together to share an airport transfer.
You can decide if you plan to offer an optional excursion and start planning any arrangements with us.

Step Three

The balance is payable two calendar months before your arrival.

We ask you to collect information about any dietary requirements or special requests (e.g. ground floor room).

On the day of arrival, you will be met at Malaga airport (by taxi or mini-bus depending on numbers) and start your one hour journey to Finca el Cerrillo.
For further information or to make a booking, please contact Alison or Sue at Finca el Cerrillo info@hotelfinca.com (0034 952 030 444)